Download our official mobile application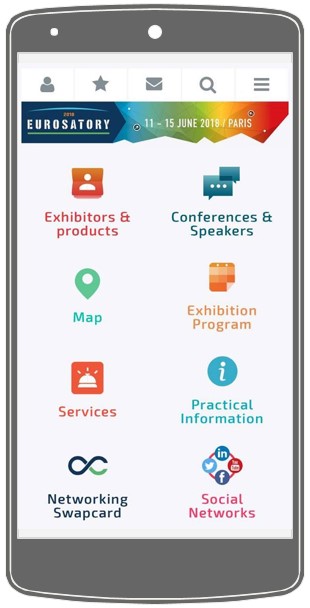 DOWNLOAD NOW
The Eurosatory application is available on Android and iOS, in English and French.
You will have access to:
a broad range of information, concerning access to the event, opening times, locations of different services or finding a free WiFi connection;
"Exhibitors & Products" with key data on each exhibitor and its location via an interactive map. It is possible to mark your favorite booths. They will appear on the map, allowing you to optimise your time at the event. It is also possible to display a theme-oriented itinerary in order to locate the most interesting booths related to a particular theme;
the "Conferences tab" leading to the conferences programme, with times, locations and the possibility to register thanks to interactive maps. The event programme is also available, with the timetable of live demonstrations, and other specific events. A major part of the application (once downloaded) is available offline.
New! Enhance networking opportunities with our partner app Swapcard.