The 2018 Exhibitors catalogue is online! Find out the exhibitors listing in details now.
You can refine your search filtering by nomenclature, theme-oriented itinerary, country and technological cluster.
Once an exhibitor has been selected, its listing will be displayed and you can see its location quickly on the interactive map with the yellow locator icon.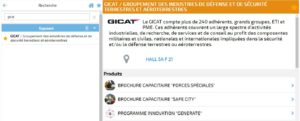 In addition, you can select the exhibitors by clicking on the star in their profile, and view them in the "Favorites" menu bar.
Cliquez sur le bouton Mise en relation, une fonctionnalité très utile pour entrer en contact direct avec l'exposant.
Click the Appointment request link button, a very useful feature to get in touch with the exhibitor.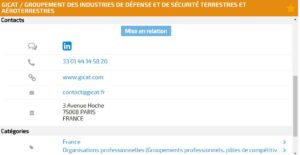 Your favorites are synchronized with the mobile app! Save the exhibitors in your favorites and find them also on the mobile app by entering your logins.
Thanks to this preparation, you will be ready to meet the exhibitors at Eurosatory!